As promised, I'm back with the deets on this cute little cake from our BOO Bingo Bash…
It is actually a 5-layer mini cake (about 6" around) made from just one box of mix!!  I used this Wilton 5 Layer Cake Pan Set.

My mind goes wild with all of the cute things that can be made with it!!  Some of the ones they feature are rainbow cakes, ombre cakes and un-iced cakes (which I should do from now on).
For our spooky cake, I used cherry Jello to make blood on the inside.  The littles thought this was just splendid.  After baking and cooling the cake in the pans, use a fork to randomly poke holes in the top of each layer.  Dissolve a package of jello (3-oz) in 1 cup of boiling water.  Then stir in 1/2 cup of cold water.  Drizzle a little on the top of each layer.  Don't go crazy, as these layers are so thin that you could possibly color the entire cake red.  Chill and then layer and ice as usual.  I used two tubs of white icing and really could have used a third, so buy plenty!
I really don't love cake decorating.  I completely ran out of steam on this one, as evidenced by the backside…
I used my icing piper (I'm sure there is a real name for that instrument) to put the ghosts on the top.  A few black sprinkles made the eyes.  I had black sixlets on hand and used those around the bottom of the cake.  Since a few of you have asked, my icing piper is by Wilton but I couldn't find it online (I've had it for ages.)  This one by Pampered Chef looks similar…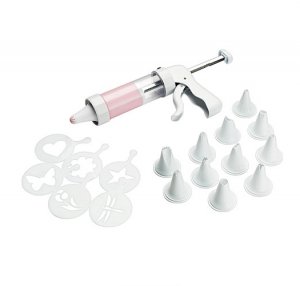 And now I've shared everything in the world I know about cakes.  :-)  I expect you'll be seeing more of this little pan set in the near future!
I'm hosting JuJu's (Honey's mother) 70th birthday dinner tonight AND have a soccer game and Georgia Tech homecoming.  It's time to step away from the computer and get busy!!
xoxo
Shop Dixie Delights on Amazon (affiliate link)
[mc4wp_form id="6556″]