UPDATE: This giveaway is now closed.  Congratulations Jessi Otey!!!  Send me an email to claim your prize :-)
A faithful reader, dear supporter and friend of a friend just so happened to mention to me that she has a little etsy shop.  So, I obviously requested the link.  Well, she just knocked my socks off with her hand painted chinoiserie ornaments at FANTASTIC prices!!!!  I cannot imagine what took her so long to share her shop with me!  It's called Willow Blue and White and I have no doubt that y'all are going to be just as head over heels as I am.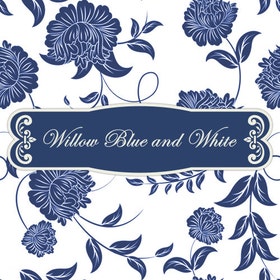 She was kind enough to make me a few samples.  Her chinoiserie ball with the Lilly Pulitzer  inspired pagoda and elephants is just fantastic (middle), I adore the uniqueness of the flat ornament with the bamboo monogram (painted on reverse as well), but it's the one on the left that stole my heart.  Lisa custom designed it to match the wallpaper in my One Room Challenge Powder Room.  What a dear!
I could do a whole tree in blue and white… Mother has one in her dining room and I have always adored it.  These will make wonderful, one of a kind gifts for teachers, friends and ornament exchanges in just over a month!!!  *eek*
The fun doesn't stop with me…. Lisa has also offered an ornament from her shop as a giveaway to a Dixie Delights reader!!!!!!!  This giveaway is open to US mailing addresses only and the winner will get to pick an ornament style and design from Willow Blue and White.  There are up to FOUR ways to enter per person.  Please leave a separate comment for each thing you complete so that you get all of your entries counted:
1. Subscribe to the Dixie Delights newsletter
[mc4wp_form id="6556″]
2. Favorite the Willow Blue and White shop on etsy
3. Like Willow Blue and White on Facebook
4. For extra entries, follow me on instagram, find this image , like it and tag a friend!!
In addition to the giveaway, Willow Blue and White is offering 20% off all purchases of $15 or more for Dixie Delights readers between now and November 2.  To take advantage of the discount, simply use the code DIXIEDELIGHTS at checkout.
I will announce the winner next Monday!
xoxo
[mc4wp_form id="6556″]