It's the half-way point of the six week One Room Challenge and I'm seriously hoping things start picking up or 1. I'll never finish this project and 2. Y'all will be completely bored of seeing my same shopping finds over and again.  If you're just now joining us, here's the vision…
And the goals:
An updated space that makes a nice transition from my preppy pink and colorful family office to the rest of the main level.  This little powder room gets a lot of use and opens onto the main downstairs hallway AND the family office.
A neutral and timeless foundation with accessories that add pops of color and can be changed out as tastes change.  I have mostly used this philosophy throughout my home.  Neutral walls, neutral floor coverings and neutral furniture.  I want to do the same here, but layer touches pink (to tie in the office) and turquoise (to transition to the rest of the house.)
Last week I did a ton of narrowing down choices and ordering online.  Well, it was like Christmas in October this week with packages piling up at my stoop!!
Lighting
The chandelier arrived and I am so happy with the choice!!  Always go with your gut.  The electrician comes today to move the wiring from the wall to the ceiling so, with any luck, this beauty should be in place in a matter of hours.
Rug
The Samode rug in fuchsia is literally the perfect shade of PINK!!  I should have snapped a pic but I left it with my monogrammer to match to the towels.
Towels
Speaking of the towels, they are currently with my friend for monogramming!!  I texted her this pic.  Fingers crossed she knows me well enough by now to decipher…
She will be using my monogram designed by Number Four Eleven in Savannah.
Walls
The South Seas Thibaut wallpaper is more beautiful in person that I could have imagined.  *pinch me*  It's going to be a game changer.
Mirror
The Moroccan Gilt Mirror is heavy and gorgeous and it going to make such better use of the ceiling height.  I can't wait to see it hanging!
Paint
In addition to the arrivals, I also spent eons on the floor of my local Ace Hardware mulling over paint colors for the cabinet.  I ended up choosing the lighter shade of gray and am hoping Honey can help (ie. just do it) this weekend.
Hardware
In a moment of weakness (Sister made me do it), I ordered the lucite and brass towel bar (Lux Hold Ups) that one of my fave igrammers (Susan Gentile) has in her home.  Isn't it fabulous?!  It takes 2-3 weeks to get in so I'm really living on the edge here.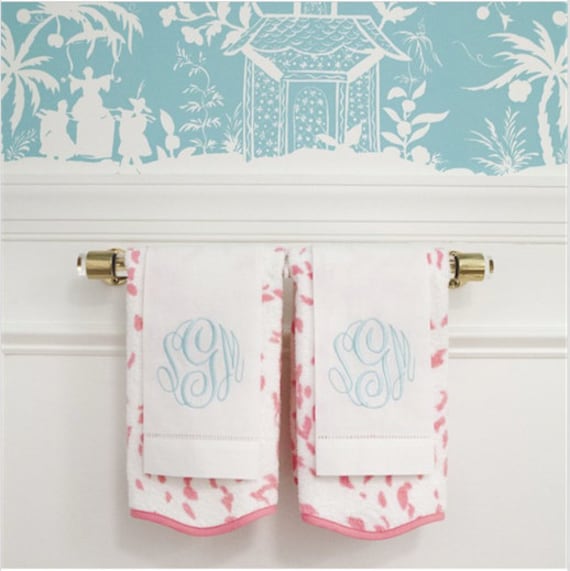 Now, one thing always leads to another.  So, after procuring the towel bar, I started looking for brushed brass hardware for the vanity.  And then I realized that I'd need to change out the faucet if I went down that route.  But the faucet is NICE and I love it.  So that just doesn't make a lick of sense.  But I'm really struggling with the mixing of metals.  Gold mirror and gold towel bar.  Oil rubbed bronze cabinet pulls and faucet.  Yikes.  Thoughts, ladies?   (Here is a sideways view of the current pulls…)
Here is my to-do list:
order wallpaper
have wallpaper hung – will schedule today
paint ceiling – this weekend
rug
mirror
hang mirror
soap dispenser
paint cabinet (can you believe I, Amanda of Dixie Delights, am going to paint wood? ) – this weekend
cabinet pulls – paint or get new?
towels
monogram towels
art
figure out frame for art
shelves – purchase or DIY???
towel bars & tp roller – paint or get new????
style shelves
have light box moved to ceiling & hang chandy – today
chandelier
So, it seems like I've done a ton of thinking on the easy things and not a lot of doing or thinking on the hard things.  Yikes!
xoxo
Calling It Home One Room Challenge
Week 1: The Plan
Week 2: Order Up
Week 3: Arrivals
Week 4: Good News & Bad News
Week 5: Major Progress
Week 6: REVEAL!
[mc4wp_form id="6556″]