A childhood friend of mine grew up to be one of the most talented interior designers I know. I've drooled over her rooms for years and have loved seeing her work so hard to make her dreams come true.
Leah G Bailey Design: home | social
Along with the other talented ladies at The Design House in Savannah, she opened TABBY Home last year. The shop offers a "curated collection of Gracious Living + Luxury Home items that reflect a lowcountry sensibility with European poise." I'll just boil all of that down and say "a shop full of gorgeous things."
When they offered to send me something from Tabby Home, I jumped at the chance to get two GORGEOUS pillows for my den sofa.
If you've ever shopped for pillows, you'll know the fabulous ones are expensive. Eleven years after moving in here, I never did commit to any. I absolutely love the soft gray velvet with linen gusset.
They are large, fluffy and make the best karate chop, if you're into that look. (I am!) In the couple of weeks we've had them on the sofa, they've held up well to everyday use.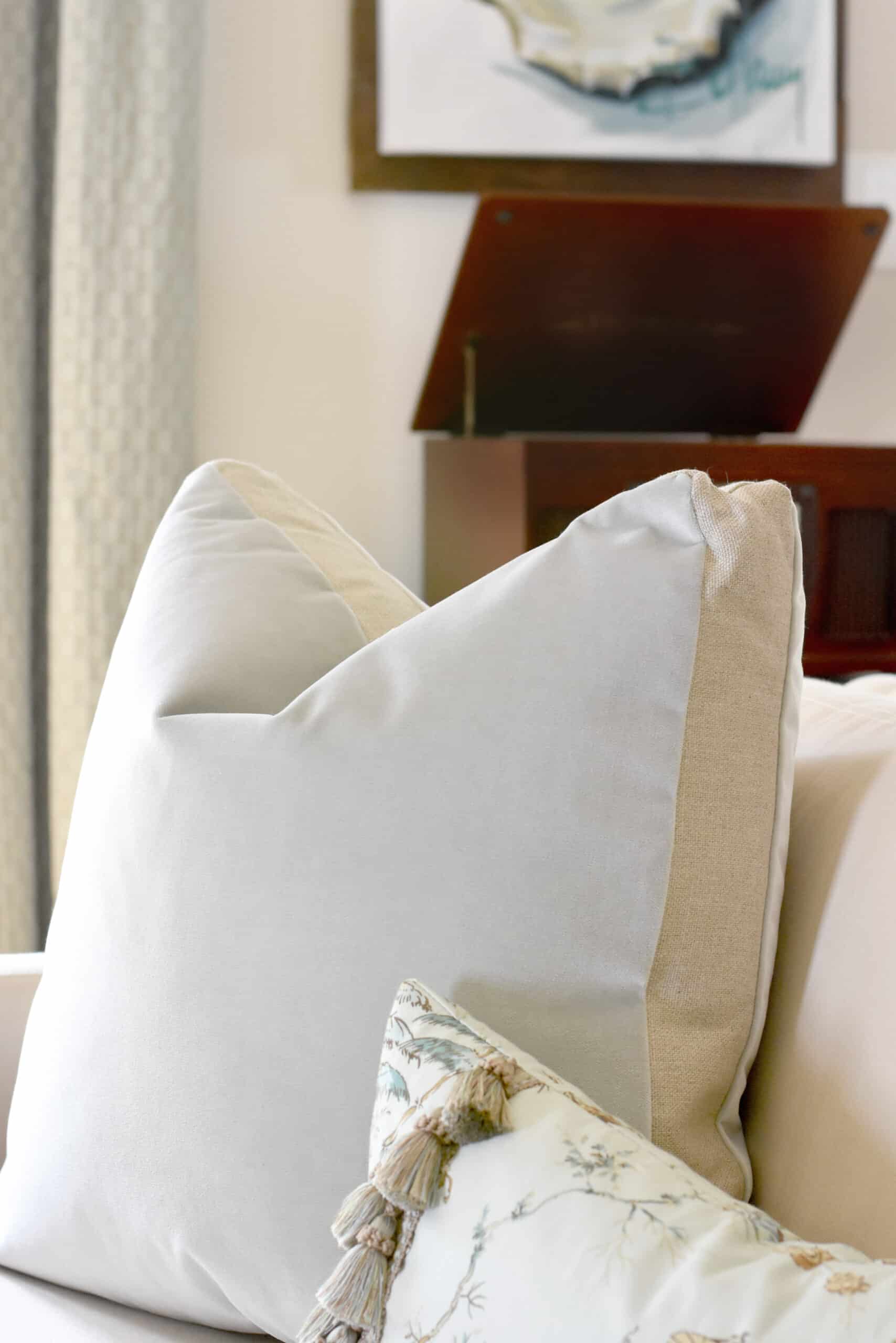 You'll find everything from art and accessories to garden and throws to lighting and furniture at Tabby Home. I'd love for you to check them out!
In taking these quick pics I realized I haven't updated my den tour since 2016!! I'm going to work on putting a new post together soon.
L E T ' S T R A V E L
The world is reopening!! Now is the time to start planning and give your family something to look forward to. All deposits are FULLY refundable and you can book with confidence knowing I handle every single details of your trip.
Walt Disney World
– Reopened July 11 with low crowds and impressive safety measures!
– Now booking for arrivals today through 2021
– Fantastic discounts now through Spring 2021!
Disneyland
– Reopening TBD
– Have your info added to my interest list for travel through 2021
Universal Orlando
– Reopened June 5 with low crowds, hardly any restrictions on experiences and safety protocols in place!
– Now booking for arrivals today through 2021
Disney Cruise Line
– Now booking for itineraries through April 2022 with a cruise with confidence flexible booking policy in place!
Aulani Disney Hawaii
– Reopened November 1
– Save up to 35% on stays through December 22, 2020!
– Now booking for arrivals through 2021
The Rest of the World (literally!)
– Now booking Adventures by Disney through March 2022 with discount (family & adult exclusive dates) and FULLY refundable deposits
– USA and international tours available
– Private tours avaialble
Dixie Delights
join me as I travel, decorate, create & celebrate
Instagram | Pinterest

Dixie Travels
perfectly planned trips & our travel adventures
Book Now | Learn More
Instagram | Facebook | Pinterest

DIXIE DELIGHTS DELIVERED